⏬LOCATION ▶Weather and Pool Temperatures
---
         The Chart below shows an average of the Daily Highs for the first and last half of each month (average of Jan 01 to Dec 31 2021 & 2022 recorded temperatures).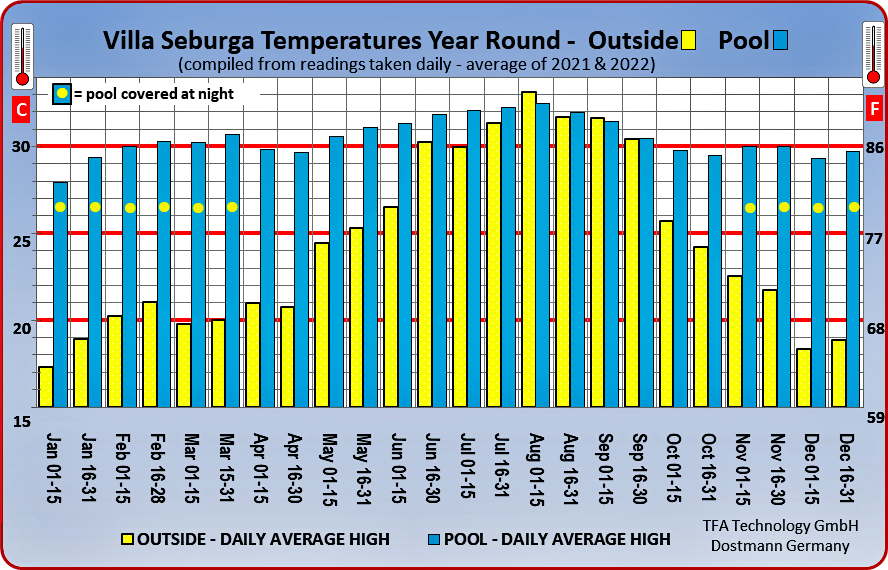 The 'Villa Seburga Temperatures' chart above is produced from daily computer generated readings using technical equipment from TFA Dostmann, Germany.

OUR OWN MICRO-CLIMATE. We wondered for years why it was that the air temperature at Villa Seburga was always several degrees warmer than the weather forecasts suggested for the Saint Paul-de-Vence area as a whole.  On some days the outside temperature at the villa is as much as 8°C warmer!  We have come to the conclusion that Villa Seburga enjoys a 'micro-climate', due to the fact that the property is built on the side of a hill.  The hill itself, located behind the property, shelters the villa from any cold air heading our way from the north.  At the same time, the property faces south and southwest, maximising on the abundance of sunshine offered 300 days of the year.  The large mass of warm water in the swimming pool located just a few metres from the villa is another contributing factor as to why we can often enjoy 20°C, when the valley below us can be just 12°. 

POWERFUL POOL HEATING. Villa Seburga's Swimming Pool heating is provided by a 23 Kw capacity electrical Heat Pump from Hayward (imported from the USA), thermostatically set to 30° Celsius (86° Fahrenheit).  It is the most powerful heating system available in France for domestic pools, producing water temperatures up to 10°+ Celsius (18°+ Fahrenheit) warmer than unheated pools in Summer and up to 25° Celsius warmer during Winter months, a time when we cover the pool at nighttime to keep the heat in.   

WINTER SWIMMING.  During the months from November to March, the pool is kept warm overnight with special customised covers.  Weather permitting, the pool is opened for use every day.  Even in the middle of winter, the temperature can still reach 30°C (86°F).  It actually steams!  Because of the close proximity, it takes no more than a few seconds - or 8 paces - to travel the 5 metres distance from your warm apartment to the warm pool to enjoy this exhilarating experience!