LATEST UPDATE : April 10 2021

YOUR HOSTS HAVE BEEN VACCINATED!                                                                  

After a month or so of waiting, we are pleased to say that Michael and Denise have managed to get their first dose of Covid vaccinations.  France may be world-renowned for its medical facilities, however they have trailed in their vaccinations roll-out planning, with decisions largely being left to the overlapping local authorities to sort out 'who gets it, when they get it and where'.  Frankly, it has been a bit of a fiasco!  Anyway, we are relieved that a newly opened, largely empty, Vaccination Centre in Vence gave us the green light - and the first jab has been done, with a 2nd dose due in just over a week. 

Our daughter, Sarah, has also received her first dose at the same centre.  She is in her mid-thirties, yet by waiting around at the end of the day, without any appointment, she was ushered in to get it - amongst several others of varying ages also on stand-by - the centre considering it better to use up remaining doses, rather than throwing them away.  This is how you can get an unexpected positive result from within an otherwise disorganized system! 

The chart below shows the current IHME projections of total daily deaths from Covid-19 until August 01 2021 in France.  April is seeing a spike, to be followed by a dramatic decline in May.  Thereafter, if all goes to plan, life then returns to near normality...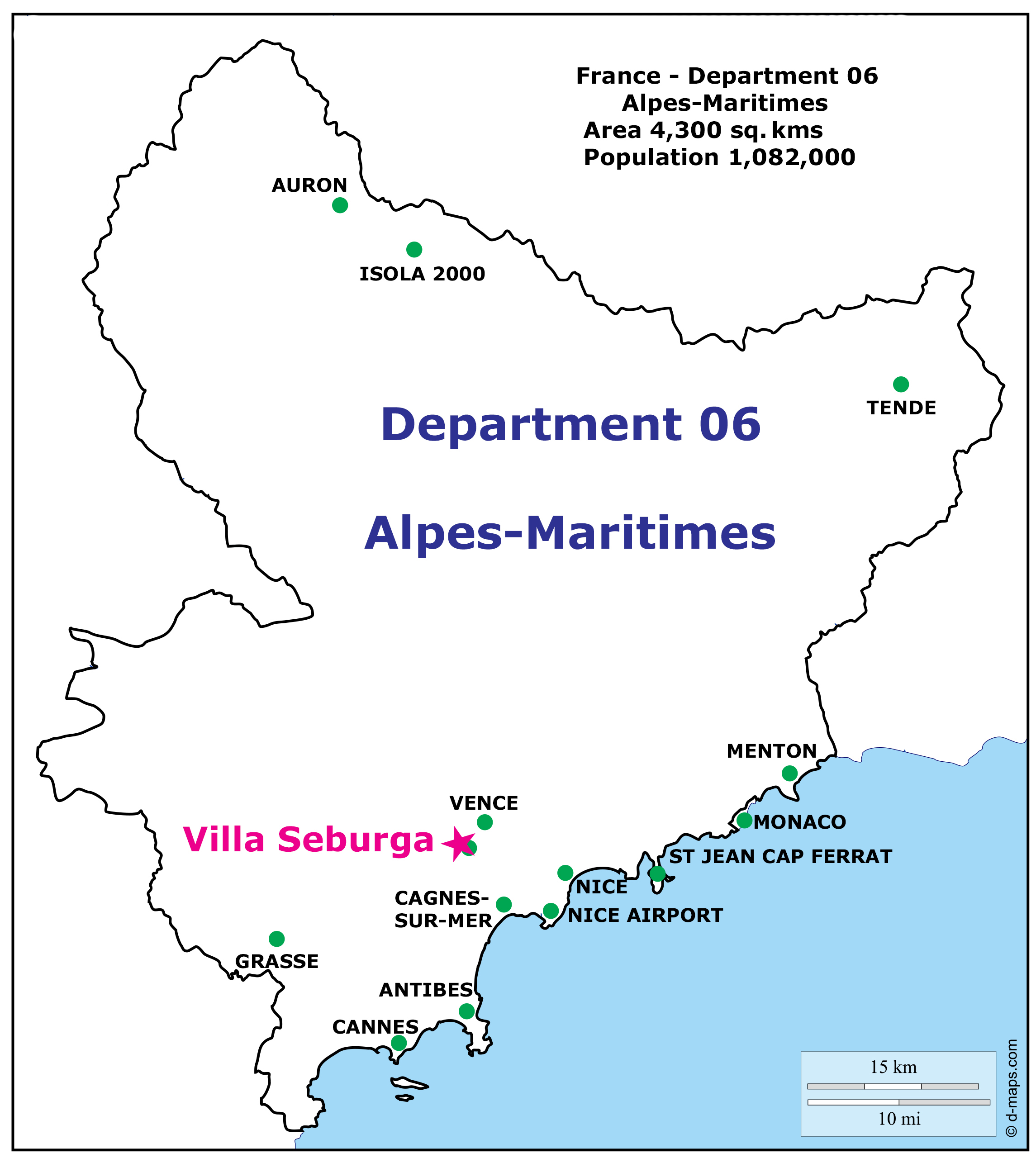 Present Situation (France and Local)

Since March 13 2021, the UK has been added to the group of countries that are permitted to enter France on holiday.  These also include all EU countries, Switzerland, Norway, Australia, New Zealand, Israel, Japan, South Korea and Singapore.  A negative Covid Test (within 72 hours of arrival) is still required.  Some EU borders are temporarily closed.  Having escaped the highest hit areas for several months, it is now Nice's turn to get a spike.  There is a limited lockdown in place until April 17 throughout the Alpes-Maritimes department.  


The Cannes Film Festival will now be held later than usual this year between July 06-15 'live in Cannes'.


Notice to Villa Seburga Guests

Prior to each Rental.  To protect ourselves and guests, we are following these procedures before every new arrival.
Cleaning personnel will wash their hands and mobile phones before starting work. 
They will wear gloves and masks. 
In addition to the regular cleaning functions, the following items will be sanitised:
Linens, Surfaces, Dishes and Cutlery.
The following items will be fully disinfected:
All bathroom surfaces
Light switches, outlets, lamp and fan pull-chains and switches
Window sills, pulls, and handles
Cabinet knobs and handles
Controls for large appliance and electronics
Controls and cords for plug-in appliances and electronics (coffee maker, toaster, television, DVD Player, Sound System, Hair Dryers, Mosquito Plugs etc.)
Air Conditioning controls
Hangers and luggage racks
Bureau drawer knobs and handles
Remote controls
Amenities like Bath Gel, Shampoo and Conditioner dispensers and cleaning supplies
Toys and games
Outside eating surfaces including Barbeque.

Villa Seburga remains a very safe property in which to enjoy your holiday.  We are all healthy.  Distancing measures have been strictly enforced on the few occasions of deliveries and when gardening or pool maintenance is taking place.


FLEXIBLE CANCELLATION POLICY
All guests who have booked directly with the Owners of Villa Seburga can expect a 'no quibble' full refund or change to a future date if they are unable to get flights or prevented from travelling due to governmental restrictions.  
Guests who have originally booked for a one week stay or longer, and have had their outbound flight delayed by their airline for up to 2 days will receive a refund for the days they miss out on. 
Essentially, no guests will lose out financially as a result of flight cancellations or other events that are beyond their control.
Guests who have booked through listing sites should follow the various policies of those sites.


Keep safe and healthy.