LATEST UPDATE : October 23 2021

Easing of Restrictions has brought France close to normality again.  Vaccinations continue at pace, and are progressively becoming mandatory for persons in health occupations.  A Health Pass has been introduced for entry into most public places.  Please note that tourists who have proof of Vaccinations in their own country (for example NHS in the UK) will be admitted into these establishments on showing their Vaccination Certificates.  The NHS Certificate is compatible with the French 'Health Pass'. Accompanying children (whether vaccinated or not) are exempt from this requirement until end of October 2021.  Scroll down for updated Travel Restrictions on entering France.

From October 04 2021, fully vaccinated travellers will no longer need a test certificate for arrival in the UK, and a lateral test will be accepted for the '2-Day' test after arrival (from October 22 2021). 

The Projections
The chart below shows the current IHME projections of total daily deaths in France and the United Kingdom from Covid-19 until February 01 2022.  (Per 100'000)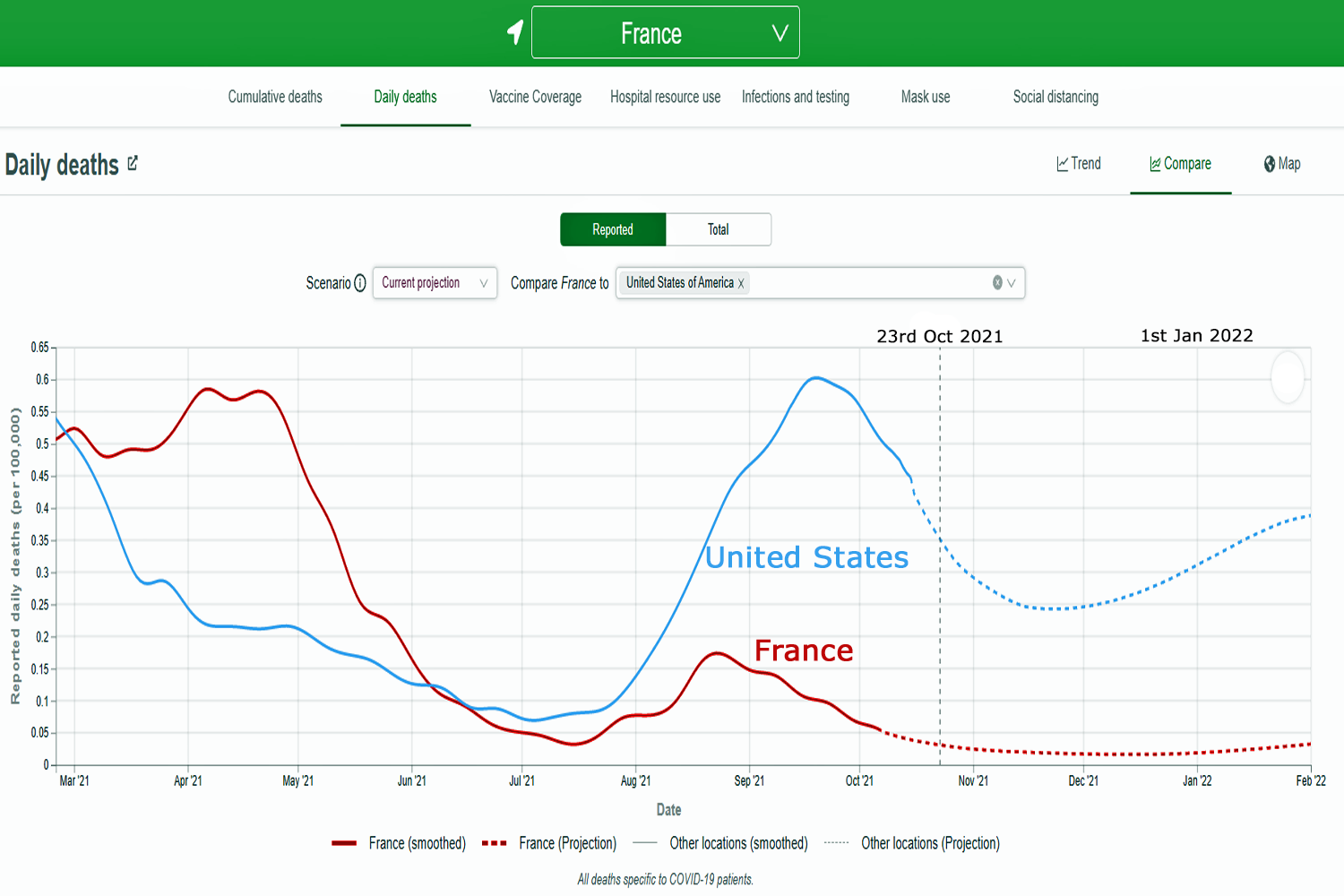 Locally in the Alpes-Maritimes (Department 06)

There were 2 deaths from Covid-19 in the Alpes-Maritimes recorded in the last 7 days.  Hospitalisations for Covid-19 remained unchanged at 167 during the same period.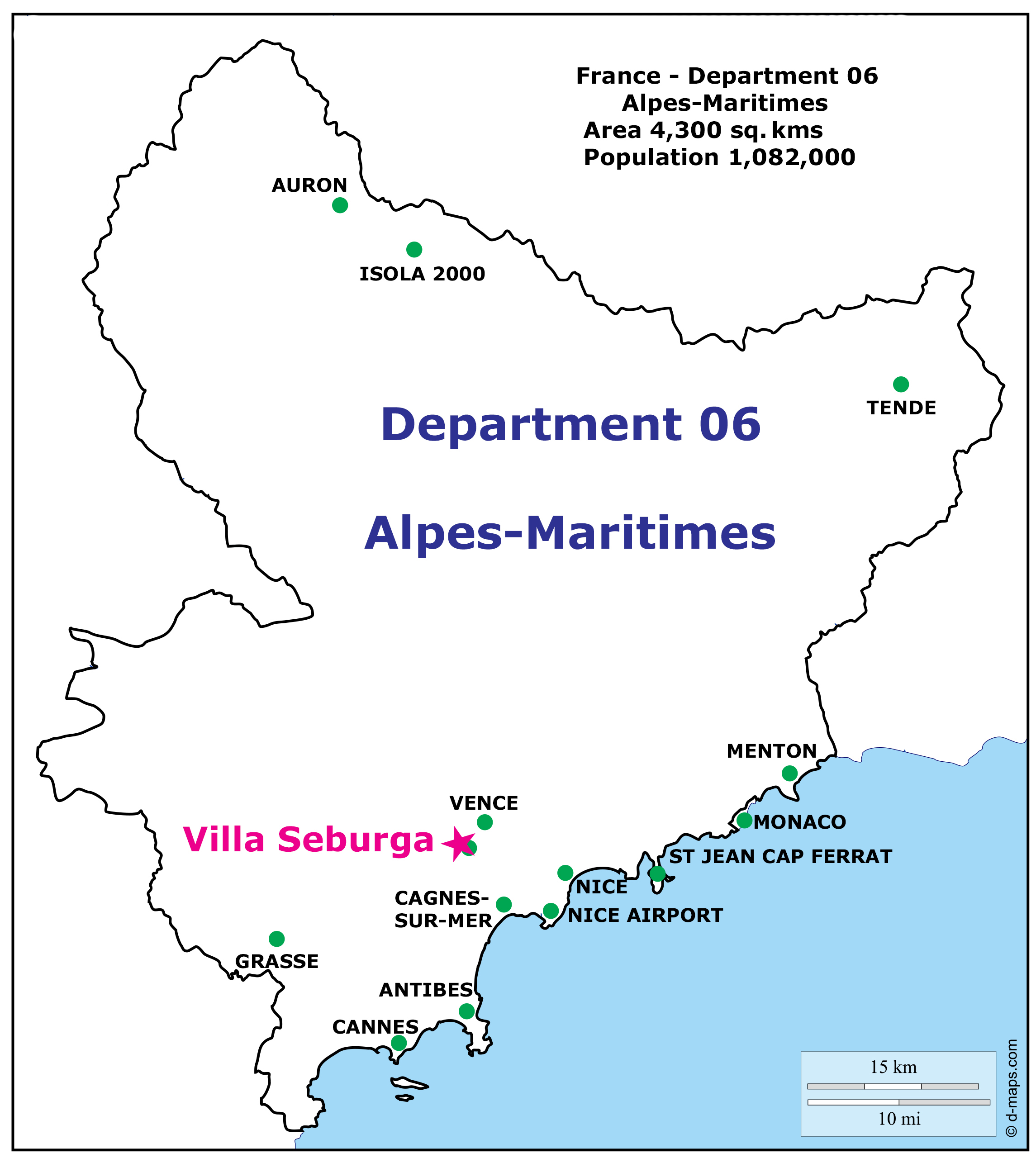 TRAVEL RESTRICTIONS UPDATED

Fully Vaccinated travellers will only need their Vaccination Certificate to enter into France.
Jabs of 2-dose vaccines need to have been completed 7 days before travel (single dose vaccine - Janssen - 28 days before).  


Vaccines must be EMA approved (BioNTech and Pfizer, Moderna, AstraZeneca (France also approves batches produced in India) and Janssen.)
France will accept certificates issued by the NHS in the UK.  No translation is required.


There is no quarantine for Fully Vaccinated travellers. 


The need to provide tests is no longer required for Fully Vaccinated travellers, no matter from which country they have arrived from.  


CHILDREN (11 AND UNDER), WHETHER VACCINATED OR NOT, ARE EXEMPT FROM TESTS & PROOF OF VACCINATION WHEN ACCOMPANYING PARENT(S) ARE FULLY VACCINATED.


CHILDREN (12 TO 17) WITHOUT VACCINATION MUST STILL OBTAIN A NEGATIVE TEST RESULT (ANTIGEN IS CHEAPEST & ACCEPTABLE) ISSUED WITHIN 24 HOURS OF ARRIVAL IN FRANCE.  First hand information is that Heathrow will provide a 'walk-in' service with results in about 30 minutes.  At some locations (Gatwick for example) you must book your appointment in advance.  


These new requirements came into effect from July 21 2021 - as detailed below.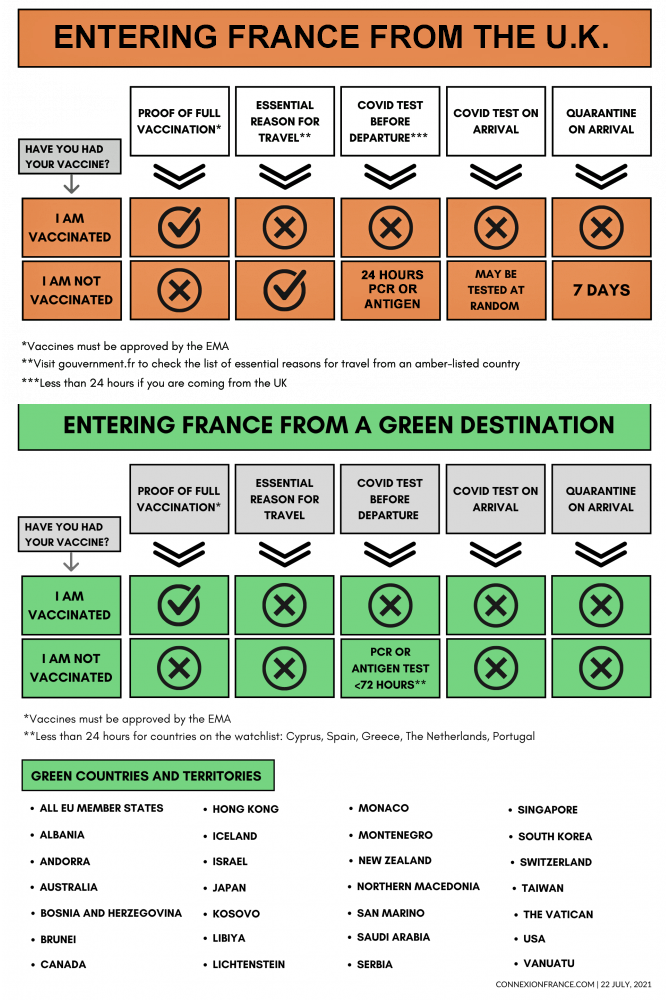 AND FROM VILLA SEBURGA...

Your hosts have all been vaccinated!
We are pleased to say that Michael and Denise, have now received three doses of Covid vaccinations.       
Prior to each Rental.  We are following these procedures before every new arrival.
Cleaning personnel will wash their hands and mobile phones before starting work. 
They will wear gloves and masks. 
In addition to the regular cleaning functions, the following items will be sanitised:
Linens, Surfaces, Dishes and Cutlery.
The following items will be fully disinfected:
All bathroom surfaces
Light switches, outlets, lamp and fan pull-chains and switches
Window sills, pulls, and handles
Cabinet knobs and handles
Controls for large appliance and electronics
Controls and cords for plug-in appliances and electronics (coffee maker, toaster, television, DVD Player, Sound System, Hair Dryers, Mosquito Plugs etc.)
Air Conditioning controls
Hangers and luggage racks
Bureau drawer knobs and handles
Remote controls
Amenities like Bath Gel, Shampoo and Conditioner dispensers and cleaning supplies
Toys and games
Outside eating surfaces including Barbeque.

Villa Seburga remains a very safe property in which to enjoy your holiday.  We are all healthy and vaccinated.  Distancing measures have been strictly enforced on the few occasions of deliveries and when gardening or pool maintenance is taking place.


FLEXIBLE CANCELLATION POLICY
Guests affected by Covid-19.  All guests who have booked directly with the Owners of Villa Seburga can expect a 'no quibble' full refund or change to a future date if they are unable to get flights or prevented from travelling as a result of governmental restrictions.  
Guests who have originally booked for a one week stay or longer, and have had their outbound flight delayed by their airline for up to 2 days will receive a refund for the days they miss out on. 
Essentially, no guests will lose out financially as a result of flight cancellations or government restrictions that prevent them from travelling as a direct result of Covid-19.
Guests who have booked through listing sites should follow the various policies of those sites.


Keep safe and healthy.